Lavender Buttercream Frosting
I encountered this frosting at the bi-annual Lavender Association Meeting.    It was light and had an amazing fresh test.  I am reprinting this recipe with permission from the author.  Nancy Baggett cooks often with lavender and has authored a book.  Find her book at 
nancyslavenderplace.com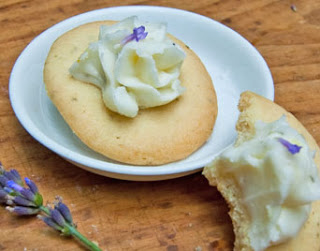 It's best to use fresh culinary lavender, but not essential. If you have only dried lavender, steep 2 teaspoons of it in a tablespoon of very hot water for 10 minutes, then press the liquid through a fine mesh sieve and add it at the end with the orange juice. If you have lots of culinary lavender in bloom, pluck some tiny purple bloomlets from the flower heads and reserve them for garnish. Then finely chop the bloom heads, called spikes, and process in the food processor extra-thoroughly.
Use the buttercream to pipe into rosettes or to swirl over cupcakes or cookies with a table knife. Or tuck the frostings between cookies for a sumptuous sandwich filling. It's best to make the frosting in advance and refrigerate, then bring it back to room temperature when you want to use it. The flavor actually seems to intensify and "bloom" during storage.
Author: Nancy Baggett
Cuisine: Baking
Serves: Enough frosting to cover about 30 2½-inch cookies and a dozen cupcakes
Ingredients
3 cups powdered sugar, plus more if needed
1 tablespoon finely grated lemon zest
1 teaspoon minced fresh culinary lavender buds or lavender flower heads (or substitute 2 teaspoons dried lavender buds steeped in 1 tablespoon hot water)
5 tablespoons unsalted butter, cool, firm, and cut into pats
1 to 2½ tablespoons orange juice, or as needed for spreadable consistency
Instructions
In a food processor combine the sugar, zest, and fresh lavender; if using dried lavender, steep it, then strain and add it along with the orange juice. Process until the zest is very finely ground and the mixture is thoroughly blended, about 4 minutes; for the smoothest frosting texture don't under-process. As necessary, scrape down the bowl sides and bottom, then continue. Add the butter and process in pulses until just smoothly cut in and no bits remain; the frosting should not be coming together in a mass.
With the motor running, gradually add juice (and lavender liquid if not using fresh lavender) through the feed tube until the desired piping or spreading consistency desired; remember that the frosting will stiffen slightly during standing. If necessary adjust the frosting consistency, adding powdered sugar to stiffen or juice to thin it. Cover and refrigerate at least 30 minutes and up to several days; let come back to cool room temperature before using. (It actually improves upon storage.)
To use the frosting: Let warm up slightly and if it is too thick, stir in a few drops of water. Add small dollops to the center top of cookies or larger dollops to cupcakes, then swirl attractively with a knife. Or, spoon it into a pastry bag fitted with a ½-inch or larger open star tip. Pipe 1- to 1½-inch diameter frosting rosettes onto cookies and large rosettes onto cupcakes.) Or, using a knife, spread the frosting between cookies for cookie sandwiches, or on cupcakes, as shown.
If desired, add fresh lavender flowers or fine shreds of fresh lemon zest on cookie or cupcake tops for garnish.